Enter A New Era of Credit Scoring
Introducing Spectral App V0.3.0, now in Open Beta and announcing Series B funding round.
We're excited to announce that we have raised a $23m Series B led by Social Capital & General Catalyst. Samsung Next, Gradient Ventures, Section 32, Franklin Templeton, Circle Ventures, Shrug Capital, Soma Capital, Jump Crypto, and others participated. We've also grown into a team of 25 strong across 12 countries.
Decentralized Credit Scoring as a Publicly Accessible Network
At Spectral, our mission is to make credit scoring trustless and globally accessible. Credit scoring is a public good. We build upon Ethereum's innovations for programmable money and set out to achieve the same goal for programmable creditworthiness and financial reputation.
This week also marks a significant moment for the Spectral community, the launch of the Spectral App V0.3.0 in Open Beta! You can now compute a comprehensive overview of your on-chain credit journey.
Key features of the Spectral App V0.3.0:
✅ Instantly Check your MACRO Score (as often as you want)
🧬 Examine Your Personalized Score Ingredients
🎆 Mint a Non-Fungible Credit (NFC) on the Arbitrum Testnet
👀 Monitor Your On-chain Creditworthiness Journey
👣 Track your MACRO Score against your peers on a public Leaderboard
🌓 Bonus: Dark and Light Mode 
Your Web3 Creditworthiness Cockpit
The Spectral App can give you an on-chain credit score in seconds. Simply connect an Ethereum wallet to the App and receive a MACRO Score reflecting your Web3 creditworthiness. Learn more about the new era of credit scoring.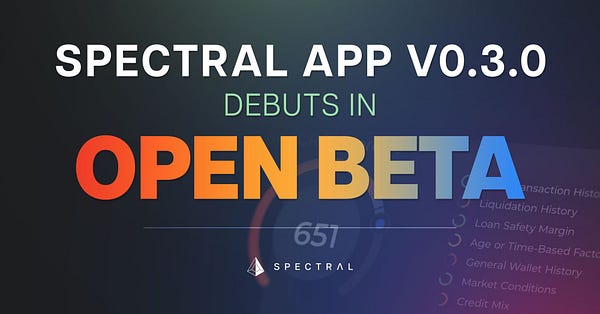 blog.spectral.finance
Spectral App V0.3.0 Debuts in Open Beta
Today marks a significant day for the Spectral community: The launch of the Spectral App V0.3.0 in Open Beta, a big step toward our vision of creating decentralized credit scoring and building a better, more equitable credit assessment infrastructure for Web3.
Powered by MACRO Score
The MACRO Score (short for Multi-Asset Credit Risk Oracle) represents your credit standing in DeFi and is calculated using many different pieces of your Ethereum transaction data. Read our Introduction to MACRO Score for more information.
Where to Find Us IRL
🇺🇸 23-25th Aug 2022 - fintech_devcon (Denver, CO, USA)
🇩🇪 12-14th Sep 2022 - DappCon (Berlin, Germany)
🇩🇪 16-18th Sep 2022 - ETHBerlin (Berlin, Germany)
🇺🇸 21-23th Sep 2022 - Messari Mainnet (New York, NY, USA)
🇺🇸 27-30th Sep 2022 - Converge22 (San Francisco, CA, USA)
🇨🇴 07-16th Oct  2022 - DevCon (Bogota, Colombia)
Are you ready to go where no credit score has gone before? Join us on our moon mission (and not-so-secret "Secret Launch Party" on Thursday at 3.00 pm EST )🎊.
Onwards and upwards!
Your Spectralites.
Website | Github | Discord | Twitter | LinkedIn | ProductHunt | DappRadar